Add Member¶
Overview¶
The AgileData App works for both individuals and teams of data analysts and consultants. By adding more members to your AgileData tenancy you can streamline the data workflow for your entire team. Multiple team members can collaborate and gather insights from your organisation's data, working in an agile way.
Adding new team members to the AgileData App is easy. All you need to do is add a new member with their Google Account email address.
You also can easily disable or delete members as well as view when members have last accessed the app or consumed data.
Members can get assigned specific roles which come with certain privileges. This is how you can regulate access to your organisation's data within your team and ensure that only specific team members can edit or change your business rules.
It is important to know that only administrators can add, disable or delete team members. Before adding a new member, make sure your account has administrator privileges in the AgileData App.
Optional Steps¶
1. Disable or delete existing member¶
To disable or delete an existing member, click on the three dots on the right side of the member and select "Disable" or "Delete".
Deleting a member removes their account from the AgileData App permanently. Disabling a member just hibernates their account unless you decide to enable it again. Both actions can only be undertaken by users with the administrator role.
You receive a message in the sidebar to confirm your action. Click on "Delete" to permanently delete the member.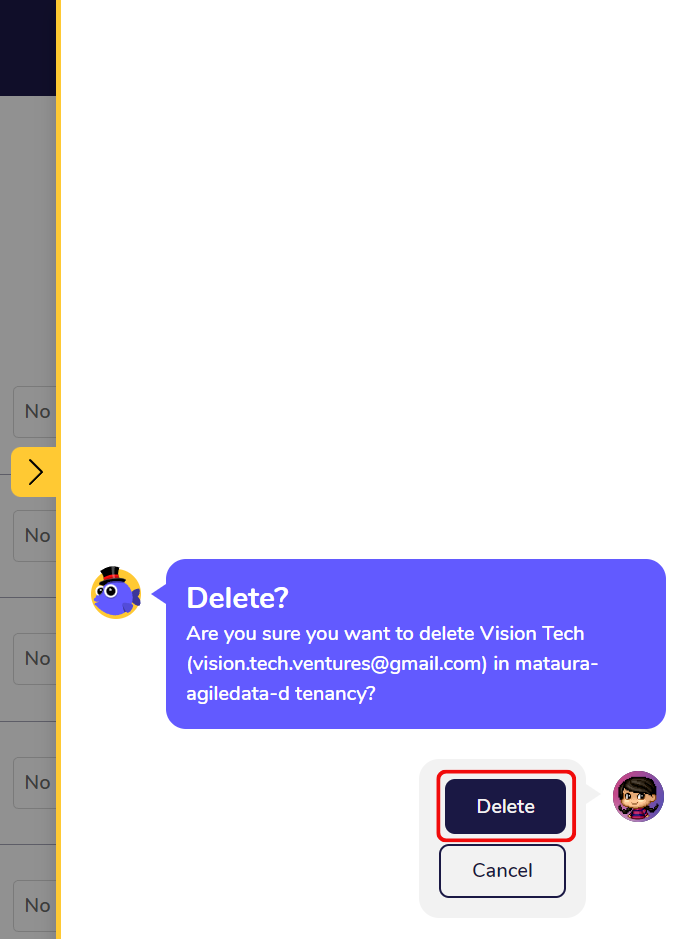 2. Change role of existing member¶
You can also change the role of an existing member. Click on the current role of the member and a dropdown menu opens.

Select the new role of the member in the dropdown menu.

You receive a message in the sidebar to confirm your action. Click on "Change role" to change the role of the member.